Powerful 3-way Forecasting


All the tools you need to build great forecasts with beautiful reports and stunning dashboards
Design beautiful reports
Choose from Castaway's inbuilt report styles or edit them to create your own. Set your brand Logo, fonts and colours and they will flow through all your reports and dashboards. Add client logos to co-brand and personalise your client reporting.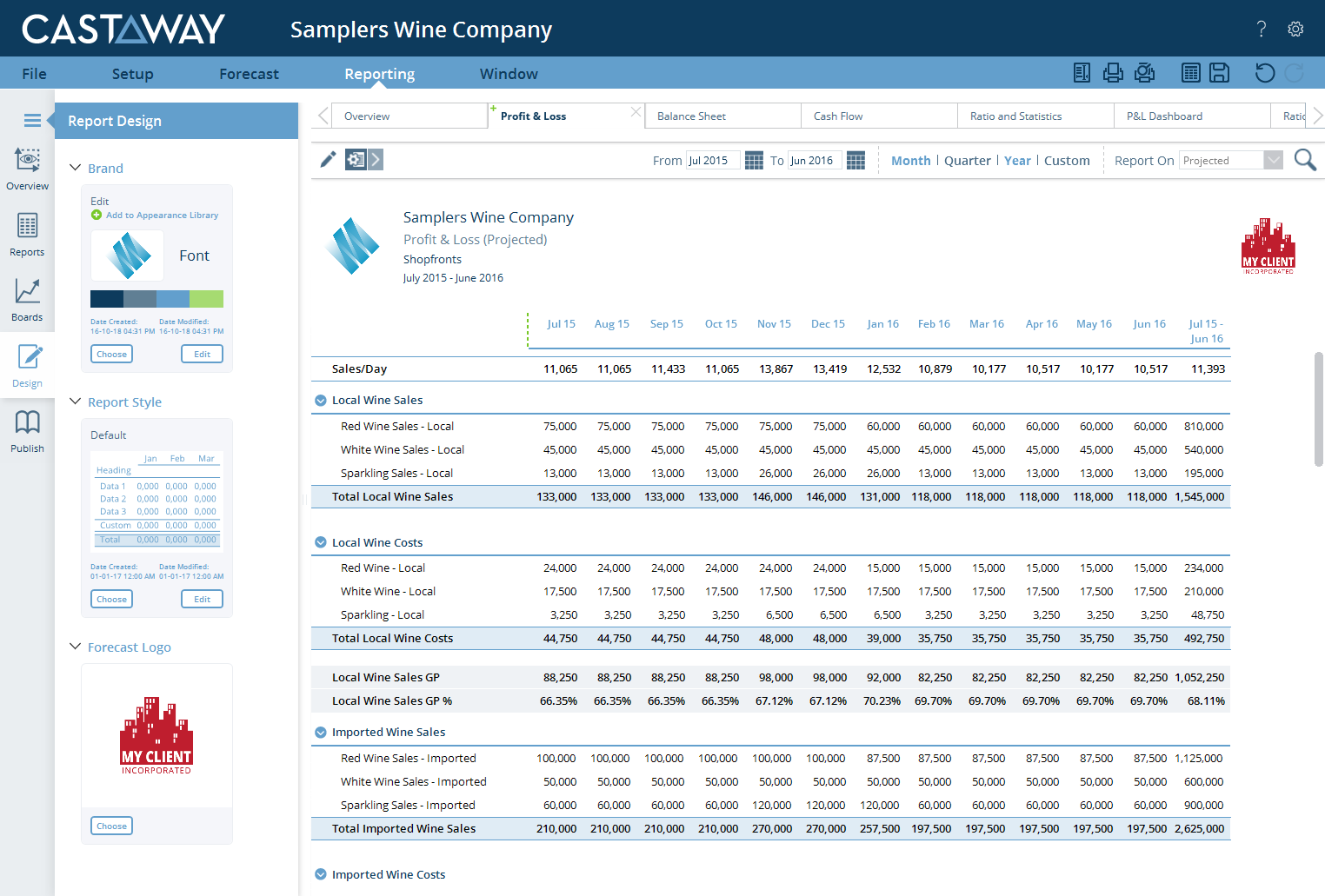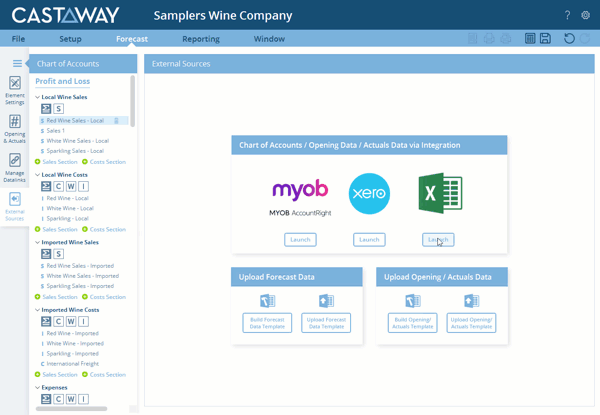 Build files in a flash
Castaway integrates with Xero, MYOB, Quickbooks Online, Sage 50cloud, Sage Business Cloud Accounting and Excel. Building your first forecast with Castaway's integrations is super-fast. Just load up your file, drag and drop single or multiple accounts to build a Chart of Accounts quickly.
Faster, easier and more flexible dashboards
We've made building great looking Dashboards easier than ever. Choose from one of the preset Dashboards or create a custom one. Preset graph widgets allow you to build a dashboard quickly or have full control and design your own graphs.
Using the Dashboard Design panel, you can create attractive unique graph styles that you can paste onto other graphs to create a consistent look for the whole Dashboard. Use text or image widgets to help tell your story. With Castaway you can quickly build attractive Dashboards with substance.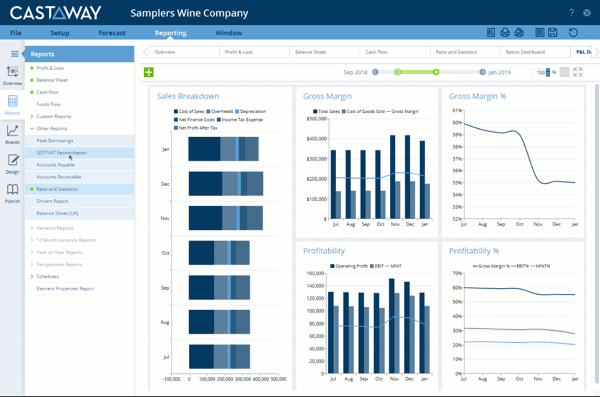 3-Way Financials
Integrated Profit & Loss, Balance Sheet & Cashflow reports ensure accounting integrity and numbers you can trust, every time
Flexible Chart of Accounts
Design the chart of accounts that best suits your purpose, add departments and subtotals. The flexibility to respond to any situation.
Line by line assumptions
Set specific calculation methods, cashflow timing, tax rates and more for every line so your forecast numbers are as close to reality as possible.
Dynamics and Drivers
Use KPIs, activity drivers, non-financial data and flexible calculation options to transform static budgets into dynamic business models.
Comprehensive Reporting
A full suite of financial reports, as well as Ratios, Statistics reports & custom reports. The ability to style reports quickly with your own brand & scheme.
Dynamic Datalinks
Expand the power of your forecast by linking data into Castaway from Excel. Changes in Excel are updated in Castaway immediately.
Complex Transactions
Inbuilt options for debtor finance, absorption costing, asset financing, loans, accruals & prepayments, natural increase for livestock, etc.
>>>>>>
Actuals and Variance Analysis
Import or enter actuals data each month then analyse variances across Profit & Loss, Balance Sheet, Cashflow, Funds Flow and Drivers reports.
Custom Formulas and KPIs
Tell the story your way by adding custom formulas to any of Castaway's financial reports, or graphing them on a dashboard.
Flexible Dashboard
Choose from Preconfigured dashboards or design your own with flexible layouts, 19 chart types and over 50 preset graphs. Graph any data from any Castaway report to create stunning dynamic dashboards.
Consolidations Add-On*
Consolidate multiple Castaway files in seconds. Giving you the power to handle large corporate groups and providing the ideal tool for project analysis or strategic planning.
>>>>>>>>>>>>>
Integrations Add-On
Import files and actuals data from Xero, Sage, Quickbooks or MYOB. Export budget and actual data to Fathom. Excel integration gives you the power to quickly bring in data from any accounting platform.
* Requires separate Add-On subscription
Castaway 3-way forecasting is fantastic. I have researched a couple of other leading business planning software packages and Castaway provides 10x more features and flexibility. I just developed a comprehensive 5 year Profit & Loss, Cashflow and Balance Sheet for a business in less than a day. Great for budgeting, business plans and bank financing. Also with direct interface to MYOB and Xero for actual results import.
Daniel Elsing, Owner - EGroup Business Services
We have been using Castaway for three years now. In my 27 years as an accountant, no other piece of software I have encountered gets even close to equalling the value added to our practice and to the value we have been able to add to our clients' businesses, by using it. Our business has grown 40% in the last 2 years and 90% of this growth is attributable to Castaway work. Castaway is an essential tool for all advisory firms.
Brett Wiseman, Director - Interact Business Consulting
Our Company has been budgeting and cashflow modelling in Excel for many years and developed a sophisticated financial model. However, budgeting became a nightmare for our finance team as the Excel-based model became too complicated and never balanced when we consolidated the various entities in our Group. We switched to Castaway as it was easy to use and enabled us to run various "what-if" scenarios with middle management in a format they could understand. We no longer have broken links and budgeting is now a much more productive exercise. Recommend Castaway to anyone who wants to make budgeting simple and clear to all involved.
Stephen Gleeson, CFO/GM - Atlas Pearls and Perfumes
I was a user of Castaway for over 3 years in my former role as Manager in an Accounting Practice. Our clients found this to be an invaluable tool for decision making and financial institutions were always impressed when presenting the 3-way forecast as part of Finance Applications. Upon commencing a new role as CFO of Dr+Group, the introduction and implementation of Castaway was a priority for the Board who agreed that this would be a vital tool when reporting on the financial performance of operations and developing business strategy going forward. The software has been easily adopted by other members of our Finance team due to the ease of use, the transparency and simplicity of the software.
Sarah Aitken, CFO - Dr+Group
As a fast-growing business, it's essential I keep a close eye on cashflow. Being seasonal in nature that's not easy without software with some "smarts" built-in. With Castaway, I have a living, breathing model of my business that I can easily adjust as business conditions change. I don't need to manually enter reams of data as Castaway can reference historical results and adjust up or down based on formulas we've implemented. With Castaway, I can see the future and the ability to easily forecast cash at the bank on a monthly basis for 12 or 18 months ahead is brilliant. The last major upgrade was a huge leap forward in user experience, making the software more intuitive to use.
David Palmer, CEO - Miami Bake House