Castaway & Quickbooks

 
Forecasting together

Castaway is a comprehensive, intelligent cashflow forecasting software which enables you to make sound decisions in your business & create value for your clients. Castaway's powerful 3-way reporting and business modelling uses double-entry accounting to retain the integrity of your forecasts.
Castaway helps tell the story of your business.
Integrate with ease
Building your first forecast with Castaway & Quickbooks is super-fast. Just load up your file and drag and drop single or multiple accounts to build a Chart of Accounts quickly
Update your forecast
Update with your new Quickbooks data whenever you want & keep your forecast up to date. Castaway remembers your mapping, so you don't have to.
Design a better future
Play with scenarios and what-ifs. Should you hire new staff or open a new location? Run the numbers and design a better future for you and your business.
About Quickbooks Online
Seriously Easy™ online accounting software for small businesses.
Create customised invoices

More ways to accept payment

Single Touch Payroll

Secure access anytime, on any device
Easily track cash flow
Reports and insights
How does Castaway integrate with QuickBooks Online
Castaway with Quickbooks integration allows you to import your chart of accounts into Castaway in a quick and easy drag and drop mapping process.



Using drag & drop, you can map:
one Quickbooks account to an existing Castaway account

multiple Quickbooks accounts to an existing Castaway account

one Quickbooks account to a new Castaway account

multiple Quickbooks accounts to a new Castaway account

multiple Quickbooks accounts to multiple new Castaway accounts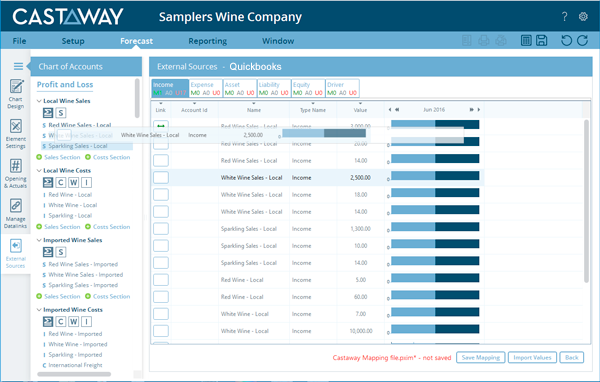 Get started with Castaway & Quickbooks