Castaway & 
Sage Business Cloud Accounting 
Forecasting together

Castaway is a comprehensive, intelligent cashflow forecasting software which enables you to make sound decisions in your business & create value for your clients. Castaway's powerful 3-way reporting and business modelling uses double-entry accounting to retain the integrity of your forecasts.
Castaway helps tell the story of your business.
Integrate with ease
Building your first forecast with Castaway & Sage is super-fast. Just load up your file and drag and drop single or multiple accounts to build a Chart of Accounts quickly.
Update your forecast
Update with your new Sage data whenever you want & keep your forecast up to date. Castaway remembers your mapping, so you don't have to.
Design a better future
Play with scenarios and what-ifs. Should you hire new staff or open a new location? Run the numbers and design a better future for you and your business.
About Sage Business Cloud Accounting
Sage Business Cloud Accounting takes care of your finances and payroll, so you can focus on the business you love

.
Create and manage invoices

Connect your bank

Easy online payroll

Powerful features on your computer, tablet, and phone

Your team and accountant work on real-time data

Bank-level security and no need for backups
How does Castaway integrate with Sage Business Cloud
Castaway with Sage integration allows you to import your chart of accounts into Castaway in a quick and easy drag and drop mapping process.



Using drag & drop, you can map:
one Sage 50cloud account to an existing Castaway account

multiple Sage 50cloud accounts to an existing Castaway account

one Sage 50cloud account to a new Castaway account

multiple Sage 50cloud accounts to a new Castaway account

multiple Sage 50cloud accounts to multiple new Castaway accounts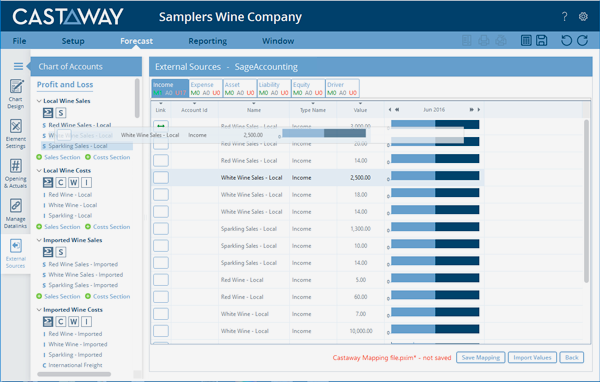 Get started with Castaway & 
Sage Business Cloud